Public Employees Work Together to Help Washingtonians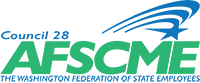 Every day, public employees in Washington State work hard to make our state a great place to live, work, and grow up. Since the 1940s, they have worked together to advocate for our communities and public agencies. Together, they form the Washington Federation of State Employees (WFSE). "Washington counts on us. WFSE members provide critical services in every community in our state," said WFSE President Mike Yestramski, a
psychiatric social worker at Western State Hospital.
Helping Others
Today, WFSE represents over 46,000 public employees in numerous jobs.
At work, WFSE members provide medical care and behavioral health services for Washington's most vulnerable, from veterans and children in protective care to Washingtonians with developmental and intellectual disabilities and troubled youth.
WFSE represents skilled tradespeople such as the plumbers, pipefitters, and carpenters who maintain college campuses, hospitals, and other public buildings. Other WFSE members form specialized crews keeping our roads and bridges safe.
WFSE members play important roles in managing our state's natural resources, ensuring a strong and sustainable economy. They work in forestry management, help farmers and landowners conserve natural resources, and maintain Washington's many beautiful public parks.
These are only some of the important services WFSE members provide.
Public Service: A Calling
Despite facing long hours, scarce resources, and dangerous conditions, WFSE members are committed to helping others. Many describe public service as a calling.
Our union is about joining forces to make positive change. Union membership provides an avenue to advocate for vital public services, improve public agencies, and promote respect, safe working conditions, and fair pay for public workers.
"Our union gives us a way to lift each other up," said Ashley Fueston, WFSE Vice President and WorkSource specialist. "When we stand together, we can fight for what's right and get through tough times."
Everyone in our state deserves a chance to work toward the American dream. Public service workers are here to help their neighbors, family, friends, and community members. Learn more about WFSE at wfse.org.