TLMCLC Opposes the Kroger & Albertson's Merger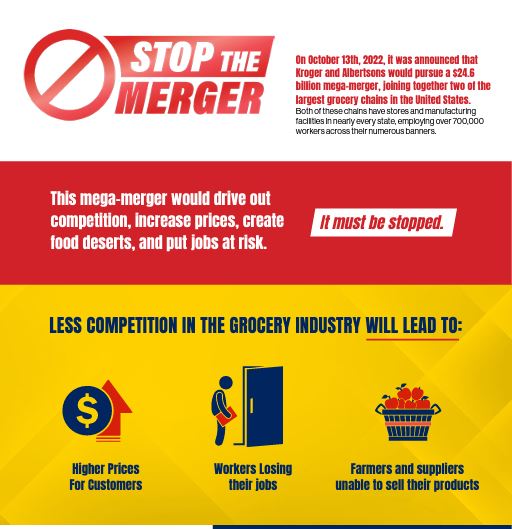 Background: On October 13th, 2022, it was announced that Kroger and Albertsons would pursue a $24.6 billion mega-merger, joining together two of the largest standalone grocery chains in the United States.
This merger would be devastating for workers and consumers alike and must be stopped.
A merger of two of the largest grocery companies in the nation will no doubt create a monopoly in the grocery industry, leading to store closures, thousands of lost jobs, and higher food prices. The merger also poses a huge threat to farm producers and other suppliers as well as smaller independent grocers.
Union grocery workers, consumers, elected officials, and community members are standing together to fight for access to nutritious food, safe shopping experiences, and investment in good jobs in our communities.
Join the campaign by clicking here: https://www.nogrocerymerger.com/
At the March, 2023 Central Labor Council meeting, the CLC voted to oppose this merger and to support grocery store workers.
Download:

StopTheMerger.FactSheet.pdf