We Support SB Workers United! Investor Day Rally on Sept. 13th!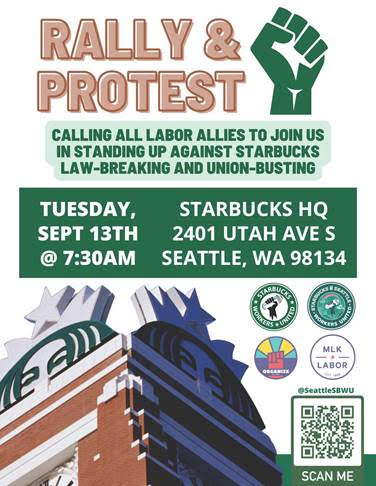 9/13 is "Investor Day" at Starbucks HQ, where investors gather to decide how to spend profits. SBWU workers are staging a rally to make sure investors know who created these profits – the workers.
Starbucks has gone all in on illegal union-busting tactics, attempting to intimidate workers. But Seattle is a union town – and Washington is a worker-first state. We don't let corporations get away with these anti-worker practices in our own backyard.
SBWU has asked the broader labor community to stand with them and we are answering the call. Many of our affiliated unions' members and CLCs have been working with SBWU across Washington, coordinating actions at local stores. This is our first big opportunity to come together across Washington's labor movement and show our support for SBWU workers. Let's make this big!
We encourage all our affiliates to share this call to action with members. Put on your union colors, grab your friends, and join us in Seattle on 9/13 as we flex our collective power!
WHAT: SBWU Investor Day Rally and Protest (Facebook event)
WHEN: Tuesday, Sept. 13 starting @ 7:30am
WHERE: Starbucks HQ (2401 Utah Ave S, Seattle)